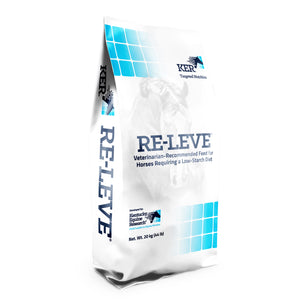 RE-LEVE®
*Additional shipping charges apply. For orders greater than 4 bags, please call 800-753-4255 for freight quote.
Veterinarian-recommended feed formulated for horses requiring a low-starch diet.
RE-LEVE® is appropriate for any health condition in which a low-starch diet is recommended. Specifically, a low-starch diet may be beneficial for horses prone to the following muscular disorders and metabolic syndromes.
Polysaccharide storage myopathy (PSSM or EPSM)
Recurrent exertional rhabdomyolysis (RER)
These metabolic problems may be triggered or exacerbated by the consumption of soluble carbohydrates found in diets that contain typical concentrates.
RE-LEVE® is fully fortified to provide the appropriate levels of the vitamins and minerals necessary for optimal performance. RE-LEVE® utilizes natural-source vitamin E, a powerful antioxidant more bioavailable than synthetic sources, to ensure horses receive the maximum benefit.
The First Research-Proven Feed for Horses with Low-Starch Needs
Studies have shown that replacing traditional grain-based diets with RE-LEVE® resulted in significant improvement in horses with RER, PSSM, and EPSM.
Effect of diet on the metabolic response to exercise in Thoroughbred horses with recurrent exertional rhabdomyolysis (RER). 1998. MacLeay, J.M., S.J. Valberg, J.D. Pagan, J. Billstrom, and J. Roberts. Proc. 5th International Conference on Equine Exercise Physiology, Utsunomiya, Japan. Equine Vet. J. Suppl. 30:458-462.

Horses with RER fed RE-LEVE® showed less post-exercise muscle damage than horses fed straight grains or sweet feed.
The effect of varying dietary starch and fat content on serum creatine kinase activity and substrate availability in equine polysaccharide storage myopathy. 2004. Ribeiro W.P., S.J. Valberg, J.D. Pagan, and B. Essen Gustavsson. J. Vet. Int. Med. 18:887-894.


Effects of diet on CK activity in horses with equine polysaccharide storage myopathy. Affected horses fed RE-LEVE® showed the least muscle stiffness.



"RE-LEVE® has been of tremendous benefit to Thoroughbreds, Quarter Horses, and warmbloods that suffer from tying-up. Our studies found that RE-LEVE® provided the best relief from muscle stiffness and soreness when combined with regular daily exercise."
—Stephanie Valberg, D.V.M., Ph.D., Dipl. ACVIM
Professor, Michigan State University
Nutritional Management
Replacing a traditional grain ration with RE-LEVE and providing regular daily turnout and exercise are key components in the prevention of PSSM, EPSM, and RER as well as the management of specific metabolic diseases.
Distribution of Energy Sources
RE-LEVE® is the original high-calorie feed specifically formulated for horses requiring low-starch diets. RE-LEVE® maintains its energy density by relying on fat and fermentable fibers rather than starch sources for the majority of its calories. Alternative energy sources such as high-fat stabilized rice bran along with super fibers beet pulp and soybean hulls provide highly digestible and readily available energy.
Recommendations for Exercise
For optimum results, dietary modifications must be combined with regular exercise for PSSM, EPSM, and RER horses. After an episode of tying-up, a brief period of stall rest is usually sufficient to allow stiffness to subside. The best results are seen if horses are returned cautiously to exercise as soon as they are able to move in relative comfort. Most horses will tolerate a gradual increase to previous levels of exercise and will benefit from as much daily turnout as posible. Although individual results vary, improvement in muscle problems should be evident starting at one to four weeks after dietary changes and daily exercise are implemented.
Guaranteed Analysis
Digestible Energy (min)

3.30 Mcal/kg

Protein (min)

12.5%

Fat (min)

12.5%

Fiber (max)

22.0%

Starch (max)

10.0%

Calcium (min)

0.9%

Calcium (max)

1.4%

Phosphorus (min)

0.55%

Potassium (min)

0.85%

Copper (min)

42 mg/kg

Selenium (min)

0.3 mg/kg

Zinc (min)

127 mg/kg

Vitamin A (min)

11,550 IU/kg

Vitamin D (min)

1,155 IU/kg

Vitamin E (min)

440 IU/kg




Ingredients

: Soybean Hulls, Stabilized Rice Bran, Alfalfa Meal, Wheat Middlings, Soybean Meal, Beet Pulp, Soybean Oil, Molasses, Salt, Calcium Carbonate, Choline Chloride, Zinc Sulfate, d-alpha Tocopheryl Acetate (source of natural vitamin E), Yeast Culture, Ferrous Sulfate, Zinc Proteinate, Copper Proteinate, Manganese Proteinate, Manganese Sulfate, Copper Sulfate, Sodium Selenite, Folic Acid, Mineral Oil, d-Calcium Pantothenate, Riboflavin Supplement, Vitamin A Acetate, Vitamin B12 Supplement, Thiamine Mononitrate, d-Biotin, Niacin Supplement, Menadione Sodium Bisulfite Complex, Pyridoxine Hydrochloride, Ethylenediamine Dihydriodide, Vitamin D3 Supplement
RE-LEVE Feeding Directions
Feed at a rate of 2.5-9 kg (6-20 lb) per day depending on the level of work as well as the size and body condition of the horse. RE-LEVE should be fed with high-quality hay equaling at least 1-1.5% of the horse's body weight per day. Replace the horse's current grain ration with an equivalent amount of RE-LEVE. 
Related articles
Managing Tying-up in Horses
Update: PSSM in Horses
PSSM: Feed Management Provides Relief

Scientific Article - Feeding Fat to Manage Muscle Disorders
relieve releve re-lieve
---
We Also Recommend