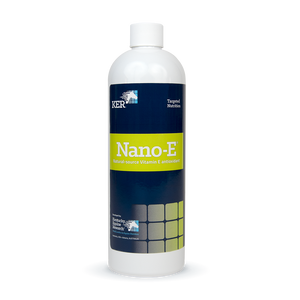 Nano-E®
Rapidly Available Vitamin E Supplement for Horses
How often should you reorder?
Serving size
Number of horses
Reorder every
4 mL (1000 IU)
1
16 weeks
2
8 weeks
3
5 weeks
4
4 weeks
20 mL (5000 IU)
1
3 weeks
What is Nano-E?
Nano-E is a revolutionary natural (d-α-tocopherol), water soluble source of vitamin E for horses. Liposome encapsulation and nanodispersion confer rapid and superior bioavailability for all horses. Vitamin E is an essential component of body-wide antioxidant defenses and plays a vital role in immune, cardiovascular, circulatory, neuromuscular, and reproductive functions.
Guaranteed Analysis    
250 IU d-alpha-tocopherol (natural-source vitamin E) per mL
Why should I use Nano-E for my horse
Vitamin E antioxidant supplement for all types of horses
Natural-source vitamin E proven more effective than synthetic vitamin E
Rapidly available so administration may be timed to provide peak antioxidant protection
Reproductive benefits for breeding stallions, and pregnant and lactating broodmares
Recommended for:
Race and performance horses in intense work
Horses recovering from illness or injury
Prior to or following stressful events such as weaning or travel
Horses with neurological or neuromuscular disease
Horses in confinement or those not receiving fresh green grass
Give 4 to 12 mL (1000 to 3000 IU) daily or as directed by your veterinarian or nutritionist. For additional protection prior to a competition or stressful event, give 12 to 20 mL (3000 to 5000 IU) 6 to 12 hours prior. Nano-E may be administered orally or top-dressed onto feed at time of feeding.
Trainers and managers should adhere to the regulations set forth by specific racing jurisdictions prior to using any feed additives or supplements. HISA Compliance
Based on customer requests, Nano-E is now available with an oral syringe and bottle adapter.

What do others say about Nano-E
"He had unexplained, significant back soreness and tightness, and he bucked frequently. After many blood tests and extensive veterinary investigation, it turned out he was completely depleted of vitamin E. Enter Nano-E. He gets it every day and hasn't had any issues since!"


-Grand Prix Dressage Rider Ashley Moore
"My gelding has always shown signs of muscle soreness and had a hard time recovering after stress. Since adding Nano-E to his diet, I have noticed that his back and topline muscles are not sore--he doesn't cringe when you reach up to touch his back, and he isn't showing the signs of chronic sore muscles."

-Barrel Racer Kelley Carrington French
Related articles
elevate concentrate maintenance ws w.s. emcelle
---
We Also Recommend